OKU – Passion for Precision Engineering Since 1978
OKU is a supplier and contract manufacturer specialising in manufacturing precision engineering components. Established in 1978. Our production facilities are located in Outokumpu, Eastern Finland.
Through our continual investment in technology, we have gained a reputation for excellence with exceptional quality. We provide our expertise for a number of industries that require the highest possible accuracy and quality standards e.g.; military & defence, aerospace, medical, fiber optics, forestry, and food industry.
OKU invests in people and technology. Through our passion and continuous improvements, we have successfully grown into a modern machinery workshop with the latest CNC automated technology.
Our two factories are equipped with 60 different machines.
5,3
turnover in 2022 (million €)
10
direct export countires in 2022
Sustainable Development Technology
As part of Finland's technology industry, which is the country's largest export industry, OKU has transformed our 45-year-old family business into a world-class performer through our determined focus on precision, quality, and delivery reliability. We are dedicated to creating sustainable products, services, and practices that not only benefit businesses and individuals, but also the society and environment.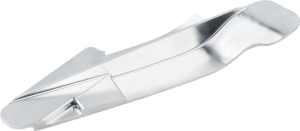 "We've always had the courage to take up different challenging assignments and accomplish them successfully – Growth awaits outside the comfort zone."
– Päivi Kettunen, Managing Director
Our Values
Competence and courage have been the foundation of OKU's success. Thanks to our diverse and demanding clients, OKU's service portfolio has been polished into a true diamond.
We genuinely care about our clients, employees, and the environment.
We invest boldly in innovative technology and intellectual capital.
Continuous development guides all our operations.
We are unconditionally committed to responsible and honest business practices.
Continuous Improvement of Sustainability
At OKU, we understand that sustainability is a critical component of business success. That's why we demonstrate our commitment to sustainability through daily actions such as fulfilling our financial obligations, providing employment opportunities, optimizing resource utilization, and minimizing waste. We prioritize the well-being of our employees by ensuring occupational safety, investing in their professional development, and promoting workplace diversity, inclusivity, and gender equality as the pillars of our organizational culture.
As part of our sustainability efforts, we also foster responsible leadership and communication practices. We actively collaborate with educational institutions by offering on-the-job learning opportunities, apprenticeships, thesis work, and summer jobs. In addition, we host a group of ninth-grade students from our local school every year as part of our commitment to community engagement and education.
We recognize the importance of responsible risk management given the ever-evolving economic, health, geopolitical, and environmental factors. Therefore, we leverage the diversity of our client industries to ensure sustainable growth at OKU.